The House of Bernarda Alba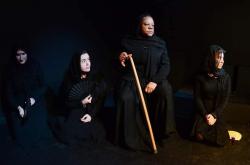 Epic Theatre Company has started the year off with a compelling production of Federico Garcia Lorca's "The House of Bernarda Alba."
Michelle Walker plays Bernarda Alba, a wealthy widow living with her five daughters in a small village.
Bernarda rules her household with an iron will. She demands total obedience from everyone and lashes out violently when her daughters dare to defy her.
Bernarda flies into a rage and scrubs the make-up from her oldest daughter Angustius's face after the family to remain in a prolonged state of mourning for her recently deceased husband.
The tension between Bernarda and her daughters escalates when Angustius (Shannon Ott) announces her plans to marry Pepe el Romano, a handsome suitor.
What Angustius doesn't know is her sisters Adela (a fiery Alexis Ingram) and Marterio (Catia Ramos) have also taken an interest in Pepe. Their competitiveness results in violence and stark tragedy.
Under the direction of Carol Schlink, the all female cast shines in their roles.
Walker, a veteran of several Epic productions, has never been better than she is here. Bernarda is a selfish vindictive woman who disregards her children's hopes and dreams. It's a powerful and haunting performance.
The always dependable Paula Faber is Poncia, Bernarda's long-suffering maid who voices her opinions on what's happening with the women.
Poncia regards Bernarda as a tyrant but remains faithful to her wishes. Walker and Faber are fascinating to watch as these two women who have lived very different lives.
Sonya Joiner appears as Bernarda's elderly mother, a rather pathetic shell of a woman whose spirit has been battered by years of neglect. Bernarda has no love for her either.
The theme of women being oppressed by society is frequently explored in fiction but what's unique about "The House of Bernarda Alba" is this time the oppressor is a woman. Bernarda's tight control over her daughters is not a demonstration of love, but of power. The way she wields her cane as a weapon only instills fear and resentment, not respect. Angustius, Adela, Magdalena, Marterio, and Amelia are all looking not only for love, but for the freedom to live their lives as they see fit.
Their mother has imprisoned them for years and they have been shattered as a result of Bernarda's refusal to allow them to pursue their dreams. This makes the horrible event at the end of the play all the more tragic.
"The House of Bernarda Alba" establishes a somber mood from the beginning, when Bernarda and her daughters appear shrouded in black as they engage in a period of prolonged mourning. They remind us of the uneasy truth of women allowing themselves the ability to hurt and humiliate each other. Maybe someday that will change.
"The House of Bernarda Alba" runs through January 26th at Theatre 82, located at 82 Rolfe Square in Cranston, Rhode Island.
For tickets, go to http://www.artists-exchange.org/events.html
Joe Siegel has written for a number of other GLBT publications, including In newsweekly and Options.
Comments on Facebook