Top Story
Indiana Mayor Pete Buttigieg (BOO'-tuh-juhj) is the latest Democratic presidential candidate to agree to hold a town hall meeting on Fox News Channel.
1 thru 10 of 2999 Stories
"Miracle in Rwanda" helps us better understand how one woman survived, and also how a painful struggle with her faith led her to find some inner healing through the forgiveness of her oppressors.
Providence, RI
Epic Theatre Company's "American Drag" is playwright Kevin Broccoli's continuation of his highly popular "American Strippers," which paired up Greek goddesses and American folk heroes in a Texas strip club.
Providence, RI
Writer/director Lenny Schwartz's "#Me Three: A Guide to New Beginnings" takes a satirical look at the #metoo movement. .
The campy "Beach Blanket Babylon" musical revue that has been a must-see for San Francisco tourists for 45 years is coming to an end.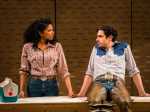 Like a high school reunion where you reacquaint yourself with old flings and someone actually looks better than they did before, the nipped and tucked "Oklahoma!" reboot deserves a page among The Best Plastic (Theater) Surgeons in America.
Providence, RI
"True West" marks a successful capper to the Gamm's first season in their Warwick home. It's a witty and insightful entertainment featuring actors at the top of their game.
Providence, RI
"Stomp" is a show that really must be seen to be believed.
Providence, RI
This production of "Little Shop" is not to be missed. It may be the musical that you bring your whole family to see.
As another season on Broadway draws to a big finish, the opening of "Hadestown" marks a milestone of sorts — it's the only new musical directed by a woman, Tony Award-nominee Rachel Chavkin.
Providence, RI
After nine seasons, Guy Ben-Aharon - the driving force behind Israeli Stage - is bringing the curtain down on the popular stage company in order to start something new. But first: Israeli Stage offers one more daring production.
1 thru 10 of 2999 Stories