Queen Margaret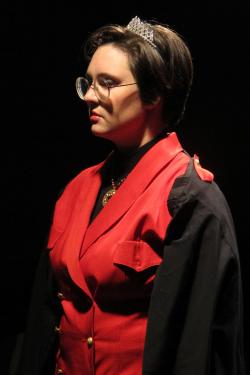 The lives of the rich and powerful are never easy as we learn from their tragic stories filled with deceit and death.
"Queen Margaret" is one of William Shakespeare's major characters in his first tetralogy of history plays, including "Henry VI, Part 1, Part 2, Part 3" and "Richard III."
Margaret, in Head Trick Theatre's production (adapted from Shakespeare by adapted by Jennifer Dick), is the daughter of a king and wed to King Henry VI (nicely played by Ken Lumb). It was a union based not on love, but on political machinations. Margaret was a citizen of France.
Henry claimed for himself the Kingdom of France and controlled various parts of northern France. Due to all this, the French king consented to the marriage of Margaret to his rival on the condition that he would not have to provide the customary dowry and instead would receive the lands of Maine and Anjou from the English.
Kerstyn Desjardin magnificently embodies the troubled queen, a vibrant and determined woman who refused to be a victim. Desjardin is able to reveal the vulnerability beneath Margaret's steely façade.
One of the best scenes features Margaret bitterly chastising her husband for making a deal with the Duke of York. Henry is a weak-willed man who caves to his enemies far too easily. Margaret is determined to protect her son Edward's (Cecily Goulis) birthright — his ascent to the throne.
Due to Henry's frequent bouts of mental instability, Margaret took control of the kingdom. She called for a Great Council in 1455 which resulted in a civil war which raged for 30 years and caused the deaths of thousands of men.
Paula Prendergast is charismatic as the Duke of Suffolk, who has a warm relationship with Margaret. They are slightly more than friends, yet not quite lovers.
The real standout in the cast is Joanne Fayan ("The Revolutionists"), who walks away with the show as the tumultuous Duke of York. Fayan delivers a climactic monologue which is mesmerizing.
Director Rebecca Maxfield's staging is exquisite, taking us into this world of scheming despots without the aid of scenic backdrops. Maxfield also plays the vengeful Richard, son of the Duke of York. Richard proves to be a real headache to Margaret and her family.
There are a few very exciting and well-choreographed fight scenes. Margaret is not a spectator when her family's lives are on the line. She displays no mercy when slaughtering her enemies.
"Queen Margaret" is a terrific entertainment which holds a mirror up to humanity's worst impulses. The quest for unending power results in horrendous acts of malice. Relationships are destroyed and families torn apart due to the ambitions of a few.
Maxfield and her cast shine a light on a fascinating woman who paid a very heavy price due to her own desire for glory.
"Queen Margaret" runs through July 21. Head Trick Theatre. AS220 Black Box, 95 Empire St., Providence, RI. For tickets, visit http://www.headtricktheatre.org
Joe Siegel has written for a number of other GLBT publications, including In newsweekly and Options.
Comments on Facebook