Gidion's Knot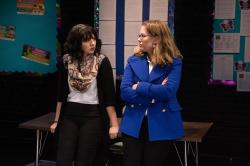 Counter Productions Theatre Company's "Gidion's Knot" is a haunting drama about the human tendency to blame others when a tragedy occurs.
Playwright Johnna Adams sets the action in an elementary school classroom, where a well-meaning teacher is confronted by the angry mother of one of her students, a deeply troubled boy named Gidion.
Valerie Remillard plays the mother, who bitterly chastises the teacher (Victoria Ezikovich) for pushing her son to self-destruction.
The two women engage in an extended dialogue trying to learn the reason why young Gidion felt compelled to end his own life.
The teacher suspended the boy for writing an essay detailing the rape and mutilation of teachers at the school. Was the punishment too harsh? Did the teacher hate Gidion?
More information is disclosed, involving inflammatory social media posts, bullying, and relationships between Gidion and his classmates.
When the lights go down at the end, there has been no definitive answer provided to explain Gidion's tragic act, and it turns out that is not even the point of the story.
"Gidion's Knot" touches on some very real problems in our society. Troubled youth are committing acts of violence all too frequently, which has resulted in much finger pointing. Do we blame the easy availability of guns? When a youth guns down his classmates, are the parents to blame? Or is it the fault of our educational system?
What can be learned from "Gidion's Knot" is that there are no easy answers or magic solutions to explain away the madness.
Remillard and Ezikovich are both outstanding and play off each other very well. Remillard captures the essence of a grieving parent who is looking for a scapegoat. Ezikovich is sympathetic as the put-upon teacher dealing with a dilemma of her own, which is revealed during the climax.
Director Kira Hawkridge ("Immortal Thirst") knows how to skillfully escalate the tension building between these two women. The show begins with Remillard walking determinedly around the stage, almost like a hunter stalking its prey. We are being primed for something explosive, and it's a chilling moment.
In an audacious theatrical display, Ezikovich turns a duffel bag upside down and dozens of white plastic balls drop out and roll all over the floor. She is tasked with reading Gidion's essay which consists of heinous acts of depravity. The balls are meant to signify Gidion's writings.
The mother seems to soften and expresses compassion when the teacher reveals what's troubling her, but then has an abrupt shift in attitude.
The aftershocks of Gidion's death will haunt these women for a long time to come. "Gidion's Knot" is Counter-Productions Theatre Company's final production, and it qualifies as a powerful and unforgettable swan song.

"Gidion's Knot" runs through May 26. Counter-Productions Theatre Company. AS 220 Black Box. 95 Empire St., Providence. For tickets, visit www.cptcri.com>.
Joe Siegel has written for a number of other GLBT publications, including In newsweekly and Options.
Comments on Facebook