Ryan Murphy Reveals Shocking Plan for 'Pose' Season 2 Finale, Show's Future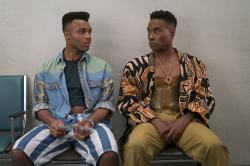 Co-creator of "Pose" Ryan Murphy revealed Friday that the drama's second season finale will come with a big surprise, Deadline reports.

Speaking at the Pacific Design Center in Los Angeles, Murphy and "Pose" star Billy Porter chatted about the series to celebrate the show's is Emmy nominations, which include Outstanding Lead Actor in a Drama for Porter.

Like at the start of the season, Murphy said the "Pose Season 2 finale will feature another time jump. Season 1 was set in 1987 and 1988 but Season 2 began a few years later in 1990 when Madonna's "Vogue" was all over the radio and ballroom culture entered the mainstream. Murphy said that the Season 2 finale, called "In My Heels" and airing on August 20, will skip to 1991. The episode is directed by Janet Mock and written by all three "Pose" creators, Murphy, Brad Falchuk and Steven Canals.

Murphy also said that he envisions that "Pose" will end in 1996, when AIDS medications were made more widely available.

FX has already announced a third season of the show.

Click here to read Deadline's full piece about Porter and Murphy discussing "Pose."
Comments on Facebook