Solutions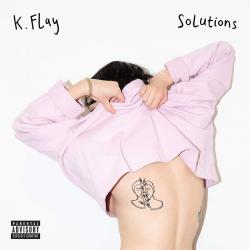 K.Flay's fourth studio album, "Solutions" is about as safe as a pop record can be. Fans of her previous hits will find a lot of the same sound here as in her last albums, but nothing fresh and nothing as inventive. There's not much artistry here, but the solid vocals, decent hooks, and expensive-sounding production cement it firmly in the "will get lots of radio play" category of pop music.

What has to be the greatest shortcoming of this album is K.Flay's lyrics, which at best can be described as deeply personal, and at worst as an uncomfortably literal mess of oversharing. Listening to "Solutions" feels like reading someone's diary in that it's not particularly refined and that it's very personal- too personal. It seems like she's trying to sound deep but without adding any poetic sensibility.

The saving grace of the album is the vocals. No matter how unlyrical the lyrics, K.Flay makes them sound smooth. Her voice is unique- she's got a whispery, sultry almost girlish sound that should feel familiar to fans of girl pop while not sounding like a copycat.

The electronica-tinged backing music could be so much more interesting here, but it's a shame that most of the crescendos and buildups peter out before they get there. The songs- "Good News" is a perfect example- have a bit of a cool sounding synth feel, but when the beat drops and the song hits full swing, it drops out. Many of these tracks and K.Flay's vocals, in particular, would have benefitted from a heavier focus on the electronica and less of the dance-pop bounciness. It's July and "Solutions" has plenty of songs that are positioned well to become summer 2019 radio staples, but they could have become lasting pop anthems with stronger backing music.

"Blood in the Cut" from 2017's "Every Where Is Some Where" proves K.Flay knows how to do this, with a heavier electronic backbeat working in tandem with her smooth, deep vocals. Many tracks on "Solutions" have solid hooks, but need a bit more of an enticing drop to sustain a whole song. All in all, this album feels like an early effort from an artist with the potential for great things. Hopefully, K.Flay keeps it up.
Comments on Facebook