Boston Symphony Orchestra: Harbison, Mozart, Vaughan Williams
Sir Andrew Davis had a robust presence at the Symphony Hall podium, where he's conducted an eclectic program with the Boston Symphony this past weekend. If he were an actor, he'd be playing Falstaff; instead he brings his that joy of living to his duties as one of the world's most renowned conductors.

His adventurous program was comprised of two large, little-heard symphonies that bookend a more compact Mozart piano concerto, one of his last, with soloist Alessio Bax. The symphonies couldn't be more different: John Harbison's Symphony No. 2 is a stormy, mysterious work with a just a touch of lyricism; while Ralph Vaughan Williams Symphony No. 5 is a luminous work that wears it lyricism on its sleeve.

The performance of the Harbison is part of the BSO's plan to present a complete cycle of the Cambridge-based composer's symphonies this season and next, with the first three this season and the final three (including the Sixth, yet to be written) next season. With no breaks between movements, Harbison's relatively brief Second is more of a tone-poem than a symphony, its sinewy melodies melding into constantly shifting soundscapes that build to a heightened climax augmented by a barrage of percussive effects. In an interview Harbison aligns the movements to times of the day (Dawn, Daylight, Dusk, and Darkness), underscoring its programmatic nature. The composer, who teaches at MIT and was present at the concert, was no doubt pleased by the sharp, lustrous performance by Davis and the orchestra.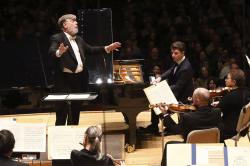 It is not surprising to read that Beethoven was a fan of Mozart concerto, which may be why tall, boyish Bax and Davis emphasized the more romantic aspects of this work. Its stormy first movement, especially, looked forward to that composer's concertos. Bax captured that drama, but also the playfulness of the concerto's lovely slow movement and its capricious finale, most notably a final theme he introduced on the piano before the orchestra took it up to great effect.

Vaughan Williams wrote his Fifth Symphony at the height of World War II, which would lead one to think that it would be a foreboding work. Instead it is calming, spiritual one - pastoral in nature and serenely optimistic. No doubt it brought hope to audiences that first heard it at the time of its premiere. It certainly brought hope to me when I first heard it living in New York at the height of the AIDS epidemic. Davis and the orchestra gave an exemplary reading. It certainly contains some of Vaughan Williams most beautiful music, and in its final moments - exquisitely realized by Davis and the BSO - had the transcendent quality of truly inspired music.

For more information about upcoming performances by the Boston Symphony Orchestra, visit its website.
Comments on Facebook