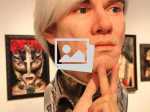 ArtBasel Miami Beach, which is now known as Art Week, is one of the largest Art exhibition events in the U.S. It attracts people from all over the world who come to show their work or to purchase artwork.
Specializing in work that featured close-ups of intimate sexual acts, both straight and gay, Betty Tompkins has been on the edge where art meets eroticism. With an upcoming contribution at Art Basel, Tompkins was interviewed for the Art Basel website.
In 1983, David Hockney joined Chicago's Richard Gray Gallery to exhibit a new project — photo collages. It was the start of a most productive relationship.
As part of the 2019 Conversations program for Art Basel Miami Beach (ABMB), expect something personal and positive from the participants on the topics they are discussing.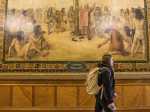 he University of Notre Dame is delaying its plan to cover up 19th century murals depicting Christopher Columbus in America that have long been criticized for their stereotypical images of Native Americans and blacks.
As easy as it might be to revert to 21st century options like a computer and high-quality printer, Boston-based collage artist Keith Maddy won't settle for anything that's not palpable in a tactile, as well as visual, sense.
Andy Warhol's portraits of New York drag queens and trans women are going on display at London's Tate Modern in a show that aims to find new angles on the iconic American artist.
A new exhibit at the Louvre, opening Thursday and marking the 500th anniversary of the Italian master's death, tries to sketch out as complete a picture of the artist and thinker as possible.
The Museum of Modern Art's new $450 million, 47,000-square-foot expansion offers visitors more than much-needed elbow room. It emphasizes new juxtapositions of works to encourage broader perspectives and new narratives.
An administrative court in Venice decided Tuesday to temporarily suspend the loan of Leonardo da Vinci's "Vitruvian Man" to the Louvre in Paris for an exhibition that is set to open later this month.