1 thru 10 of 7486 Stories
In a new GQ Interview, Cleveland Browns wide receiver Odell Beckham Jr. spoke on the media speculation about his sexuality. Check out the highlights here.
Former NSYNC singer Lance Bass visited "Watch What Happens Live with Andy Cohen" Monday night. While there, he retold the story of coming out to Britney Spears on the night of her wedding to Jason Alexander. Watch the clip here.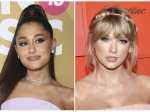 Ariana Grande and Taylor Swift are the top contenders at the 2019 MTV Video Music Awards, each scoring 10 nominations.
Never underestimate the power of a shirtless Justin Bieber selfie!
After photos of Nick Jonas enjoying his summer while on a yacht in Miami went viral last week, some fans lost their minds over the "Jealous" singer's physique.
Duncan James, of the boy ban Blue, said that his boyfriend makes him feel proud to be gay, after many years of insecurity over his sexuality.
"Hey, aren't you ..." Well, no. As famous as they are, celebrities sometimes get misidentified as another A-list face, but many told The Associated Press that they take it in stride.
A video of Shawn Mendes refusing to help a fan come out as bisexual to their parents is making the rounds on social media this week.
Felicity Huffman's co-stars in a new Netflix movie say they found her remorseful about her role in a college admissions scandal.
U.S. President Donald Trump said he spoke with Sweden's prime minister Saturday about jailed rapper A$AP Rocky and "offered to personally vouch for his bail," a hollow offer in a criminal justice system that doesn't include bail.
1 thru 10 of 7486 Stories